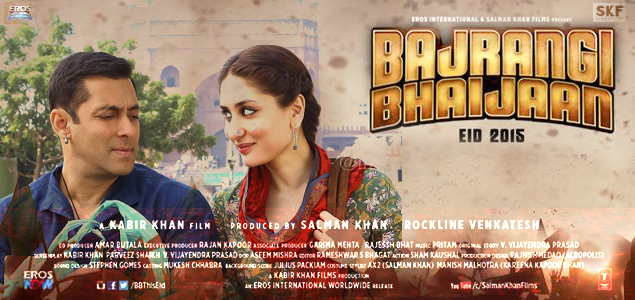 As I reached home after watching Bajrangi Bhaijaan the news channels were busy debating Pakistan's latest claim against India. The army of their country has apparently shot down a spy drone that was lingering around the border. The lack of trust between the two neighbours has never been a secret to the world. And this despite arguments that the masses on either side really do not share the same emotions as they ones who are ruling the respective countries.
Ironically enough it is this idea of love that Bajrangi Bhaijaan sells. Opportunity time to release? Absolutely! Especially considering it also coincides with Eid.
Bajrangi Bhaijaan is not your regular Salman Khan film. It is not the film where you get to see him take off his shirt for the heck of it. It is not the film where he beats of goons every ten minutes and has him delivering heavy dialogues just for the sake of it. But then it is every bit the charming Salman that fans love. Right from the scene where he is introduced till the very end, he fits to T the requirement of being a simpleton who could go to any extent to help someone… just because he has promised Bajrang Bali. And yet this film actually belongs as much to the adorably cute Harshaali Malhotra. The endearing young actor shares as much responsibility of the film on her shoulders as does Salman.
But more importantly Bajrangi Bhaijaan is a Kabir Khan film. Kabir, who has earlier made Ek Tha Tiger with Salman, gives the actor the much needed sensible film. He seems to be to Salman what a Rohit Shetty is to Ajay Devgn – the one who gives the actor the best opportunities. And that by far states the effectiveness of Bajrangi Bhaijaan. Agreed it is replete with manipulative instances and over the top situations, inconsistent screenplay and even continuity jerks but it still manages to hold much above the usual fare that Salman Khan drags to the blockbuster club. What more! You actually see Salman Khan act. With lesser muscle-flexing scenes it is more about his charm. And I have to accept it, by all of Bajranhg Bali's might, that Salman had me floored.
And then of course there is the brilliant Nawazudding Siddiqui who at times steals the show from Salman. And Kareena, insignificant in her part, but effective nonetheless. To add, she looks beautiful – enough for a Hanuman bhakt to fall for her.
Kabir Khan in Bajrangi Bhaijaan has a perfect recipe. He does not manage to bring out the best flavor but this one will still leave most of the viewers with a smile. And some of the extra-emotional ones with a tear too. A must watch!
WHAT THE RATINGS MEAN:
0.0 – 1.4 : Poor
1.5 – 1.7: Poor, A Few Good Parts
1.8 – 2.3: Average
2.4 – 2.9: Fairly Good
3.0 – 3.4: Good
3.5 – 5.0: Very Good
Continued: